Our youth and local leaders lead participatory research to better equip our community with the knowledge and solutions needed to drive positive change. Whether it's releasing a report on anti-violence recommendations, testifying before New York City Council or presenting at conferences, RHI is changing the narrative.
Youth-Led Community Building is Violence Prevention: A 2023 Progress Report
Community safety is multidimensional. It's freedom from violence, access to affordable housing and green spaces, well-paying work and strong community connections, and more. Yet research and evaluation often focus only on criminal legal system data, missing the true impact or work to build a deeper and more resilient form of safety. What counts as "evidence" and how do we measure "Success"?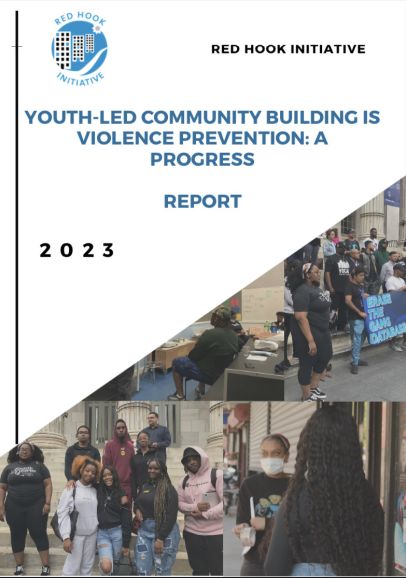 Public Safety team Responses to Increased Shootings in Red Hook, June 2022
In response to the increased shootings all over including in the Red Hook Houses, young adults from our Public Safety Organizers program prepared a response.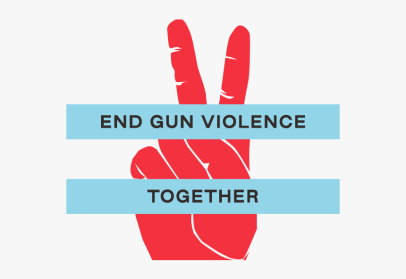 RHI Testimony To New York State Housing Committee Hearing, January 2022
My name is Michel'le Thomas and I am the Community Relations Manager at Red Hook Initiative (RHI). RHI is a community-based organization serving 6,500 public housing residents in Red Hook, Brooklyn each year through youth development, community building, and local hiring programs. Red Hook is home to the largest New York City Housing Authority (NYCHA) development in Brooklyn and the second largest in New York City.
I am here today to speak specifically about challenges we have been facing relating to the Emergency Rental Assistance Program (ERAP) for NYCHA residents and to urge you to ensure full funding for NYCHA residents with pending ERAP applications.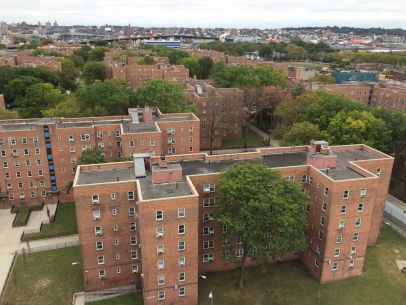 RHI Ambassador Publication Series
RHI's Public Safety Organizers partnered with our Development team to become the first ever RHI Ambassadors. This group of young organizers, established in April, have been supporting the community of Red Hook through various in person and virtual outreach initiatives. Providing services ranging from voter registration, to vaccine hesitancy discussions. Their community outreach work, combined with our critical race based discussion training, have created an environment that sought to explore and challenge their perceptions of life in Red Hook, and how their personal identities influence those perceptions. Through the Ambassador program, these young organizers have created 250 word Opinion Pieces surrounding aspects of public safety of their choosing. These writings represent both their individual voices, and collective themes.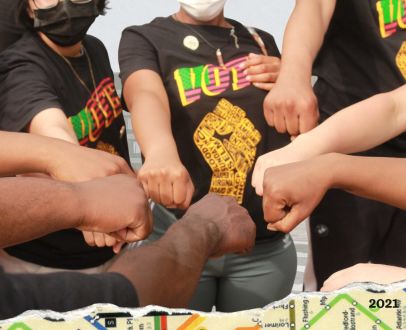 Planning for a Just Recovery: A Collective Crisis Response for an Equitable and Resilient NYCHA, February 2021
Long before COVID, NYCHA and its residents were struggling with physical, economic and social disparities, resulting from systemic racism and federal disinvestment. In Fall 2020, a multi-sector Working Group convened to develop a Collective Response Strategy focused on short & long-term recommendations to address the COVID response and promote long-term resiliency for a #NYCHAJustRecovery. Supported by the Ford Foundation, Working Group members included NYCHA, Hester Street and RHI among others.
We are excited to share this Strategy report – read it here!
RHI Welcomes Morgan Monaco as Our Next Executive Director, August 2020
For over 18 years, Red Hook Initiative has offered resources, tools and opportunities to amplify community voices and interrupt the systems and barriers that perpetuate historic inequities. The RHI Board of Directors is thrilled to make an announcement about our next era. Following an intensive six-month search, we are proud to welcome Morgan Monaco as our new Executive Director. Morgan will succeed Jill Eisenhard, whose visionary founding legacy has positioned RHI as a local stronghold serving Brooklyn's largest public housing community, the Red Hook Houses.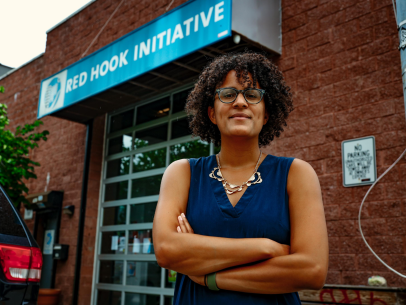 We have to ask ourselves, "What have we done at RHI to say Black Lives Matter?"
A message from RHI's leadership, June 2020
Red Hook Initiative (RHI) recognizes the constant and consistent dehumanization of a Black body requires a loud response. Our Black communities in Red Hook and across New York City cannot be expected to "just live" under the constant fear of state-sanctioned and vigilante racial violence. The murders of Deion Fludd, Breonna Taylor, George Floyd, Tony McDade and Ahmaud Arbery (and the many unsaid) deserve a response that is better than just a heavy heart. Now is the time for RHI to work and walk differently to be in true solidarity with our young people.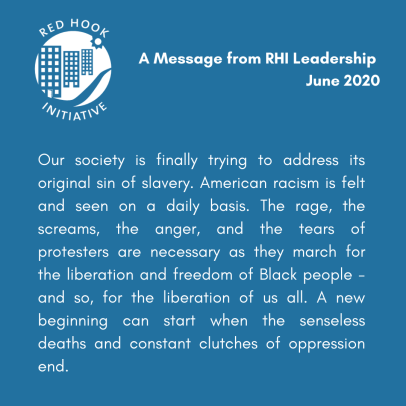 Young Adults' Experiences of Violence and Dreams of Community-Led Solutions in Red Hook, Brooklyn
We are a group of young adults from Red Hook. We grew up in this community witnessing violence, disinvestment, and over-policing. In the summer of 2017, we came together because we were tired of being ignored and harassed and because we were ready to make a change. We took matters into our hands and launched a research study about violence and community-building for young adults in Red Hook. The research was conducted by us, with us, and for us.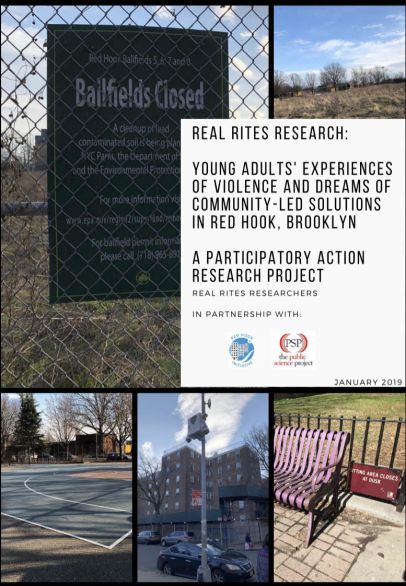 Local Leaders: A Community-Based Response to Crisis
In 2014, RHI launched "Local Leaders," a training program designed for public housing residents to learn about emergency preparedness and community organizing; this program was developed through lessons learned in response to Hurricane Sandy. RHI's immediate crisis response and recovery efforts, led by Red Hook residents, volunteers and staff, taught us the true power of community-led response to emergencies and the importance of social networks among neighbors in times of crisis. The trying days and weeks following the storm bore witness to the incredible resiliency of residents within New York City Housing Authority (NYCHA) Red Hook East and West public housing communities.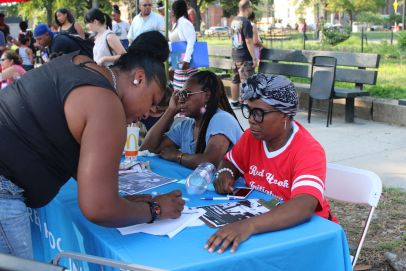 The Impact of Mold on Red Hook NYCHA Tenants
In 2016, RHI rallied Red Hook residents, through Participatory Action Research, to explore the impact of mold on tenants of the Red Hook Houses of the New York City Housing Authority (NYCHA). The decision to develop a survey on NYCHA residents' experience with mold in their homes came from an urgent community call for action. While Hurricane Sandy exacerbated mold problems in deteriorating NYCHA buildings, Red Hook NYCHA tenants have suffered from the health hazards associated with mold for years with no respite despite similar findings in the past, including the 2009 Red Hook Community Health survey and the 2014 Weathering the Storm: Rebuilding a More Resilient NYCHA post-Sandy. Mold is contributing to a public health crisis. Years after Hurricane Sandy, Red Hook residents continue to suffer from a crisis that existed before the storm and continues today. Research shows that long-term exposure to mold can make healthy people sick. The outcomes of our survey demonstrate a public health crisis for Red Hook residents and the need for a comprehensive response.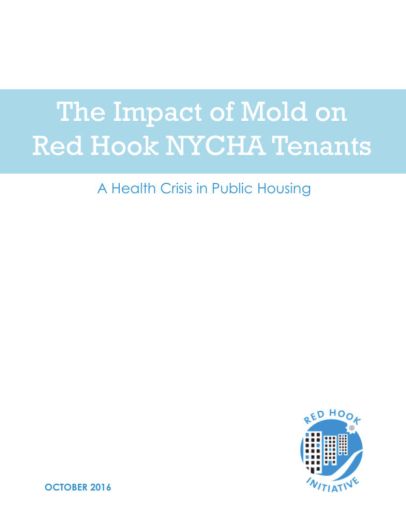 A Community Response to Hurricane Sandy
On October 30, 2012, when Hurricane Sandy left thousands of residents of the NYCHA Red Hook Houses without electricity, heat, or running water, but left our center unharmed, our staff and participants did what they had done every day since our founding—they organized and took action to respond to the needs of their own community. They were quickly joined in their efforts by a flood of support from thousands of volunteers, community agencies, elected officials, corporations, and donors. The response in Red Hook was a testimony to the power of neighbors and fellow New Yorkers caring for each other. At the peak of the crisis, over 1,200 people were coming through the Red Hook Initiative doors to charge phones, get a hot meal, pick up supplies, receive medical or legal support, and offer to help.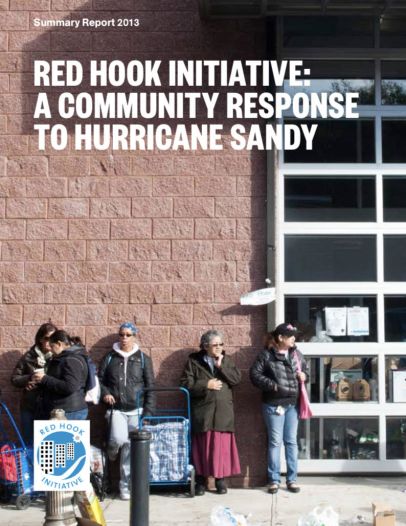 Stop and Frisk Report, 2012
In 2012, RHI Partnered with other Civic Action groups like the ACLU, NYCLU, and Vocal NY to examine the impacts of Stop and Frisk policing tactics. A survey was distributed to over 700 Red Hook residents and
The City of New York, decided on August 12, 2013, to outlaw Stop and Frisk policing. US District Court Judge Shira Scheindlin ruled that stop-and-frisk had been used in an unconstitutional manner. This at the time seemed to be a major win for heavily policed, black and brown communities.